TALENTI outdoor footrest pouf CASILDA Collezione Icon
Description
The outdoor living pouf of the Casilda Talenti collection is the perfect complement to combine with the modular sofa or living armchair. As per the other living elements, the pouf is designed with an elegant game of contrast between a rigid and geometric frame and soft and light cushions.
The stainless steel frame is powder coated. Seat is supported by polyester belts specifically formulated for outdoor use. Cushion with removable cover easy to wash and weather resistant. Quick dry foam padding.
Casilda Talenti collection sums up every iconic features of the designer, finding a perfect balance between materials and shapes. A new istant classic has born. Plain geometries and warming lightning, captivanting fabrics and neutral palette. Everything is in its right place.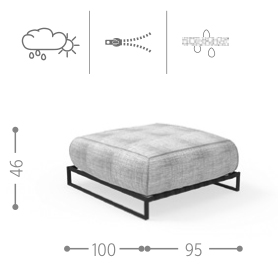 Version
Material
Price
Gold / White
Fabric and painted steel

€ 1.706,78

Discount 25.5%

€

1.271,00

To order

Graphite / Dark grey
Fabric and painted steel

€ 1.678,72

Discount 25.4%

€

1.252,00

To order

Graphite / Light grey
Fabric and painted steel

€ 1.678,72

Discount 25.4%

€

1.252,00

To order

Mokka / Grey mélange
Fabric and painted steel

€ 1.678,72

Discount 25.4%

€

1.252,00

To order

Mokka / White-beige
Fabric and painted steel

€ 1.678,72

Discount 25.4%

€

1.252,00

To order

White / Light grey
Fabric and painted steel

€ 1.678,72

Discount 25.4%

€

1.252,00

To order