VITRA office swivel chair with wheels PHYSIX
Description
Vitra Physix - Alberto Meda, 2012
Physix, developed with the shared engineering expertise of Alberto Meda and Vitra, is the all-round chair for today's modern office. Its light, expressive and high-quality look and easy adjustment options make it ideal for the use in a variety of different work and meeting situations. At the same time, Physix meets the most discerning demands in terms of both comfort and ergonomics thanks to its sophisticated design and materials. Furniture type: Office swivel chair complying with EN 1335
Material:
Mechanism and support bracket: Made of powder-coated aluminium in deep black (RAL 9005) or soft grey (RAL 7047). With synchronous movement, individual adjustment of the backrest tension and lock in upright position.
Frame, seat and backrest: Flexible frame and armrests made of polyamide in deep black or soft grey. One-pieced seat and backrest formed by the stretched fabric TrioKnit.
Base: five-star base made of die-cast aluminium in powder-coated deep black, soft grey or polished finish.
Soft small wheels braked for hard floor.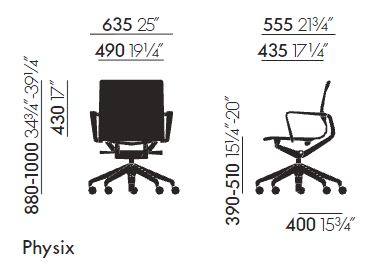 Version
Material
Price
Silver seat and seatback / Deep black base and structure
Aluminum base and fabric TrioKnit

€

957,00

To order

Silver seat and seatback / Soft Grey base and structure
Aluminum base and fabric TrioKnit

€

957,00

To order

Silver seat and seatback / Glossy base and deep black structure
Aluminum base and fabric TrioKnit

€

957,00

To order

Silver seat and seatback / Glossy base and soft grey structure
Aluminum base and fabric TrioKnit

€

957,00

To order

Black pearl seat and seatback / Deep black base and structure
Aluminum base and fabric TrioKnit

€

957,00

To order

Black pearl seat and seatback / Soft Grey base and structure
Aluminum base and fabric TrioKnit

€

957,00

To order

Black pearl seat and seatback / Glossy base and deep black structure
Aluminum base and fabric TrioKnit

€

957,00

To order

Black pearl seat and seatback / Glossy base and soft grey structure
Aluminum base and fabric TrioKnit

€

957,00

To order

Blue cocoa seat and seatback / Deep black base and structure
Aluminum base and fabric TrioKnit

€

957,00

To order

Blue cocoa seat and seatback / Soft Grey base and structure
Aluminum base and fabric TrioKnit

€

957,00

To order

Blue cocoa seat and seatback / Glossy base and deep black structure
Aluminum base and fabric TrioKnit

€

957,00

To order

Blue cocoa seat and seatback / Glossy base and soft grey structure
Aluminum base and fabric TrioKnit

€

957,00

To order

Reed seat and seatback / Deep black base and structure
Aluminum base and fabric TrioKnit

€

957,00

To order

Reed seat and seatback / Soft Grey base and structure
Aluminum base and fabric TrioKnit

€

957,00

To order

Reed seat and seatback / Glossy base and deep black structure
Aluminum base and fabric TrioKnit

€

957,00

To order

Reed seat and seatback / Glossy base and soft grey structure
Aluminum base and fabric TrioKnit

€

957,00

To order

Coal-black seat and seatback / Deep black base and structure
Aluminum base and fabric TrioKnit

€

957,00

To order

Coal-black seat and seatback / Soft Grey base and structure
Aluminum base and fabric TrioKnit

€

957,00

To order

Coal-black seat and seatback / Glossy base and deep black structure
Aluminum base and fabric TrioKnit

€

957,00

To order

Coal-black seat and seatback / Glossy base and soft grey structure
Aluminum base and fabric TrioKnit

€

957,00

To order