LEYFORM office chair with wheels ASTRA W with polypropylene backrest
Price:

€ 836,14

Discount 31.1%

€

576,00

VAT included

Freight costs:
Item code:
LEY/0925
Brand:
Designer:
Massimo Costaglia & Giulio Mazzanti
Delivery:
4-5 days if Available (+info)
Buy:
CHOOSE A VERSION
Description
Looking for an ergonomic chair for office and home work that improves life? Astra Leyform armchair boasts great maneuverability and ergonomics combined with numerous adjustments; it has been designed to dynamically support the back in office work as in teleworking. Technology, design and correct sitting posture are combined in a single seat whose mission is to improve life at work and at home. Height-adjustable armrests, 5-star base with soft tread pivoting castors, seat height adjustment, lateral flexibility of the backrest, exclusive self-weighting mechanism that flexes the seat forward in relation to how much the backrest tilts. All these elements always guarantee a correct thrust in the back-lumbar part so as to support the back while bending, stretching or getting up from the chair.
Mechanism: Self-regulating
Backrest covered with PP backrest
Seat and back in injected flame-retardant polyurethane
Armrests with ergonomic movements, TPU soft touch pad
Whtie nylon base Ø 700 mm
Nylon wheels with brake type H - Ø mm 65.
Gas piston for seat height adjustment.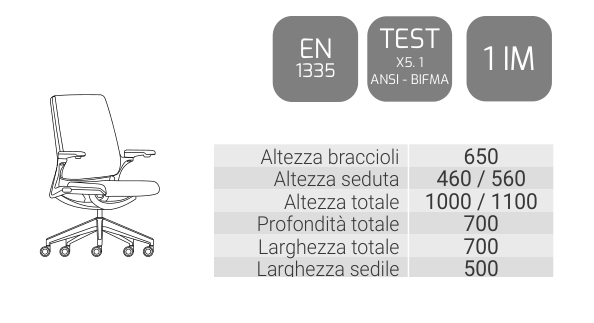 Version
Material
Price
Cat. B
Aluminum, polypropylene and fabric

€ 836,14

Discount 31.1%

€

576,00

VAT included

To order

Cat. D
Aluminum, polypropylene and fabric

€ 846,29

Discount 31.2%

€

582,00

VAT included

To order

Cat. E
Aluminum, polypropylene and fabric

€ 875,47

Discount 31.4%

€

601,00

VAT included

To order

Cat. F
Aluminum, polypropylene and fabric

€ 886,89

Discount 31.4%

€

608,00

VAT included

To order

Cat. P
Aluminum, polypropylene and leather plus

€ 954,14

Discount 31.7%

€

652,00

VAT included

To order