VITRA armchair black leather EAMES LOUNGE CHAIR & OTTOMAN classical dimensions
Description
The Lounge Chair is one of the most well-known designs by Charles & Ray Eames. Created in 1956, it is now a classic in the history of modern furniture. During the many years of the design process, the Eameses never lost sight of the future users of the chair, for whom they wanted to create a special place for both relaxation and inspiration. The Lounge Chair combines high-quality materials and design to achieve exceptional comfort. The Lounge Chair is not only suitable for private living spaces, but also for representative lounges, lobbies and waiting rooms – to give users extremely comfortable seating. Since the Lounge Chair went into production more than 50 years ago, the average human has – depending on the region – become up to 10 cm taller. In close cooperation with the Eames Office, Vitra has created a slightly larger Lounge Chair so that taller people, too, can enjoy the exceptional comfort of this classic chair design. The Lounge Chair is made from superior materials and, to a great extent, by hand. Thanks to its quality, it is often passed down from one generation to the next.
- Shell of the seat and backrest: molded plywood, veneered cherry-tree or walnut black pigment.
- Padding / lining: Padded removable drive, Premium leather upholstery.
- Arms: connected to the body of the seat and backrest with rubber-metal (shock mounts).
- Base: swivel base and a 5-spoke cast aluminum rear bracket. Side profiles blacks, polished edges or completely chrome.
- Shoes: all feet have shoes with inserts felt for hard floor.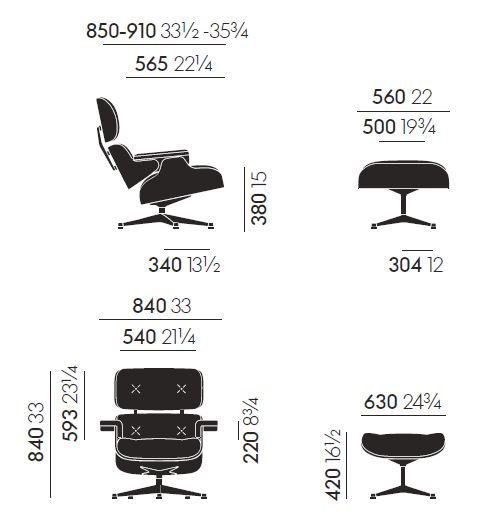 Version
Material
Price
Glossy base, american cherry wood stucture, Premium black Leather
aluminum, wood and leather

€

7.650,00

To order

Glossy base, Walnut stucture, Premium black Leather
aluminum, wood and leather

€

8.620,00

To order

Glossy base, Rosewood stucture, Premium black Leather
aluminum, wood and leather

€

9.410,01

To order

Glossy base/black profile, american cherry wood structure, Premium black Leather
aluminum, wood and leather

€

7.450,00

To order

Glossy base/black profile, Walnut stucture, Premium black Leather
aluminum, wood and leather

€

8.420,00

To order

Glossy base/black profile, Rosewood stucture, Premium black Leather
aluminum, wood and leather

€

9.210,00

To order