Description
The timeless elegance of high-technology dematerialization. A body that is ethereal, pure and almost immaterial. Its naked, transparent base can be customized with a variety of interchangeable finishings and materials, expressing personal taste.
The revolutionary technology Edge Lighting unites to the dematerialization concept intrinsic in the product.
It exploits at the most the potentialities of LED and with a least thickness it perfectly guarantees a light uniform, an elevated visual comfort, maximum performance and efficiency. The exclusive minimal design of the integrated dimmer, guarantees the maximum control on the bright intensity with one click.
"Bon Jour is a collection of coordinated lights, that explores the elegance without time of the dematerialization high-tech, combined to the liberty of expression of the personal creativeness." Philippe Starck
Table lamp providing diffuse light. Injection moulded PMMA clear transaprent base and diffuser. Edge Lighting technology light source. Power cord length 200 cm, with dimmer switch that provide ON-OFF functions and 10-100% light adjustment. Plug-in power supply with interchangeable plugs.
Lamps Description: EDGE LIGHTING 2700K 900lm CRI90 13W Dimmer
Finish: Transparent body
Finish : White, Copper, Chrome, Matt chrome
Crown: transparent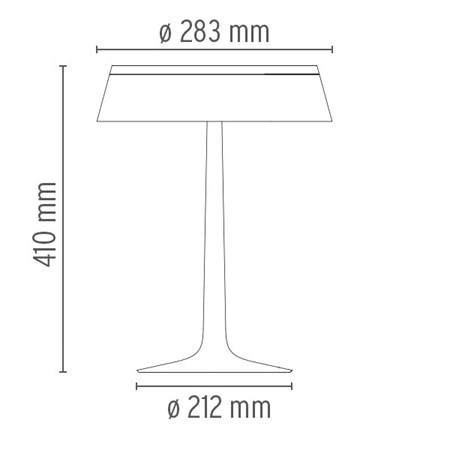 Version
Material
Price
Matt white with amber crown
PMMA

€ 540,00

Discount 14.1%

€

464,00

To order

Matt white with smoked crown
PMMA

€ 540,00

Discount 14.1%

€

464,00

To order

Matt white with yellow crown
PMMA

€ 540,00

Discount 14.1%

€

464,00

To order

Matt white with soft fabric crown
PMMA

€ 580,00

Discount 14%

€

499,00

To order

Matt white with transparent crown
PMMA

€ 530,00

Discount 14%

€

456,00

To order

Chrome with amber crown
PMMA

€ 560,00

Discount 13.9%

€

482,00

To order

Chrome with smoked crown
PMMA

€ 560,00

Discount 13.9%

€

482,00

To order

Chrome with yellow crown
PMMA

€ 560,00

Discount 13.9%

€

482,00

To order

Chrome with Soft fabric crown
PMMA

€ 600,00

Discount 14%

€

516,00

To order

Chrome with tranparente crown
PMMA

€ 550,00

Discount 14%

€

473,01

To order

Matt chrome with amber crown
PMMA

€ 540,00

Discount 14.1%

€

464,00

To order

Matt chrome with smoked crown
PMMA

€ 540,00

Discount 14.1%

€

464,00

To order

Matt chrome with yellow crown
PMMA

€ 540,00

Discount 14.1%

€

464,00

To order

Matt chrome with Soft fabric crown
PMMA

€ 580,00

Discount 14%

€

499,00

To order

Matt chrome with tranparente crown
PMMA

€ 530,00

Discount 14%

€

456,00

To order

Copper with amber crown
PMMA

€ 590,00

Discount 14.1%

€

507,00

To order

Copper with smoke crown
PMMA

€ 590,00

Discount 14.1%

€

507,00

To order

Copper with yellow crown
PMMA

€ 590,00

Discount 14.1%

€

507,00

To order

Copper with soft fabric crown
PMMA

€ 630,00

Discount 14%

€

542,00

To order

Copper with trasparent crown
PMMA

€ 580,00

Discount 14%

€

499,00

Available