LOUIS POULSEN suspension lamp PH LOUVRE
Price:

€ 8.410,68

Discount 14%

€

7.233,00

VAT included

Freight costs:
Item code:
LOU/PHLOUVRE
Brand:
Designer:
Poul Henningsen
Delivery:
2-3 weeks if Available (+info)
Buy:
CHOOSE A VERSION
Description
The PH Louvre Louis Poulsen suspension lamp emits 100% glare-free light.
The geometric and spherical design is based on the principle of illuminating all surfaces at the same angle and ensures uniform light around the luminaire, which illuminates the walls and ceiling.
The lower opaque painted surfaces and the glossy upper surfaces express themselves in an attractive reflection of the diffused light that creates a uniform distribution of light around the luminaire.
Material:
Screens: drawn aluminum.
Frame: extruded brass, polished chrome.
Body: drawn aluminum, polished chrome.
Canopy or box for external driver containing the driver.
Cable length: 4m.
Bulb not included: 96W LED 2700/3000K 29 lm/W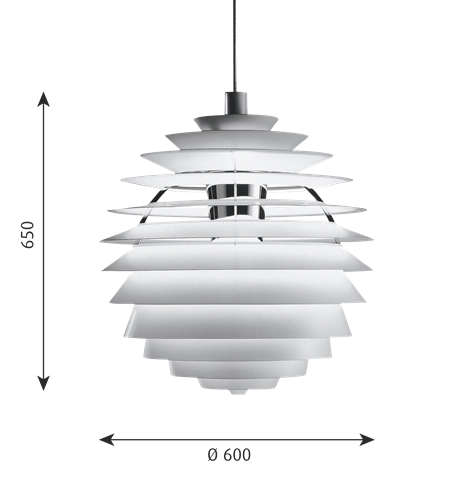 Version
Material
Price
2700K external driver
Allumino

€ 8.410,68

Discount 14%

€

7.233,00

VAT included

To order

2700K internal driver
Allumino

€ 8.410,68

Discount 14%

€

7.233,00

VAT included

To order

3000K external driver
Allumino

€ 8.410,68

Discount 14%

€

7.233,00

VAT included

To order

3000K internal driver
Allumino

€ 8.410,68

Discount 14%

€

7.233,00

VAT included

To order