LOUIS POULSEN floor lamp PH 80
Price:

€ 1.205,36

Discount 14%

€

1.037,00

VAT included

Freight costs:
Item code:
LOU/PH80FLOOR
Brand:
Designer:
Poul Henningsen
Delivery:
4-5 days if Available (+info)
Buy:
CHOOSE A VERSION
Description
The floor lamp PH 80 by Louis Poulsen diffuses a soft, reflected and symmetrical light. Most part of the light is directed downwards and the opal acrylic screens illuminate the space in a comfortable way. The red shade of the upper reflector of the original device adds an intense and warm glow to the light. The devices of black and white colour have a white upper reflector reflecting the light and gives an elegant and clear aspect. The choice of the light source will determine the lighting colour.
Material:
White opal acrylic screens. Polished chromed support with textured black base. Black support with smooth black base. White support with white smooth base.
Screens: injection moulded white opal acrylic. Upper reflector: red or white polycarbonate. Upper and base covering: black or white high pressure moulded ABS. Support: polished chrome ou noir ou blanc, powder coated, stainless steel.
Type of cable: plastic cable with socket. Cable length: 2,6 m.
Bulb excluded 1x70W E27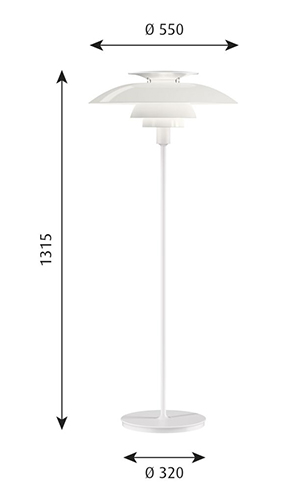 Version
Material
Price
White, dimmer
Opal acrylic, polycarbonate and steel

€ 1.205,36

Discount 14%

€

1.037,00

VAT included

To order

White, ON/OFF
Opal acrylic, polycarbonate and steel

€ 1.205,36

Discount 14%

€

1.037,00

VAT included

To order

Extra glossy chrome, ON/OFF
Opal acrylic, polycarbonate and steel

€ 1.205,36

Discount 14%

€

1.037,00

VAT included

To order

Black, dimmer
Opal acrylic, polycarbonate and steel

€ 1.205,36

Discount 14%

€

1.037,00

VAT included

To order

Black, ON/OFF
Opal acrylic, polycarbonate and steel

€ 1.205,36

Discount 14%

€

1.037,00

VAT included

To order