LOUIS POULSEN floor lamp NJP
Price:

€ 766,16

Discount 14%

€

659,00

VAT included

Freight costs:
Item code:
LOU/NJPFLOOR
Brand:
Designer:
Nendo
Delivery:
4-5 days if Available (+info)
Buy:
CHOOSE A VERSION
Description
The NJP Louis Poulsen floor lamp provides a direct horizontal glare-free light, reflecting at the same time a part of the light through the back of the head, illuminating the upper part of the arm.
The ergonomic design of the luminaire head gives shape to the light and gives it optimal direction.
A simple mechanical system guarantees great freedom of movement, so that the light is always set in the ideal position in the work space.
The lampshade is painted white inside, and produces a diffused and pleasant reflection of light.
Material: Base: steel Arms and lamp head: Aluminum Joints: Anodised aluminum. Stem: Aluminum.
Thread length: 1.7m
Switch: In the luminaire head.
Timer function: 4 hours / 8 hours.
LED driver: separate, to be connected to the socket.
Bulb included LED 10W 2700 / 3000K 50lm/W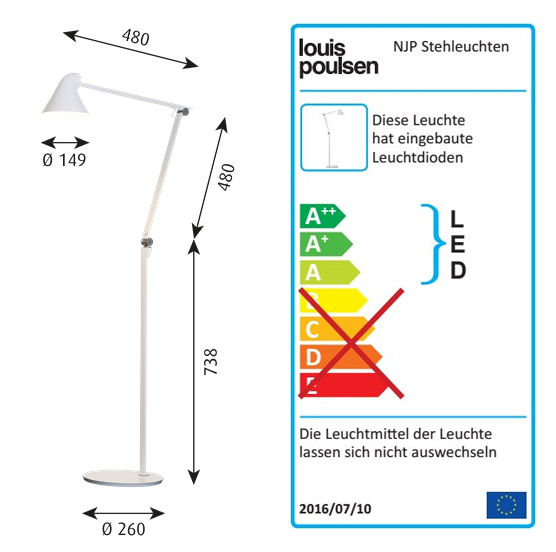 Version
Material
Price
white 2700K
Aluminum

€ 766,16

Discount 14%

€

659,00

VAT included

To order

White 3000K
Aluminum

€ 766,16

Discount 14%

€

659,00

VAT included

To order

Light grey 2700K
Aluminum

€ 766,16

Discount 14%

€

659,00

VAT included

To order

Light grey 3000K
Aluminum

€ 766,16

Discount 14%

€

659,00

VAT included

To order

black 2700K
Aluminum

€ 766,16

Discount 14%

€

659,00

VAT included

To order

Black 3000K
Aluminum

€ 766,16

Discount 14%

€

659,00

VAT included

To order