LOUIS POULSEN floor lamp AJ
Price:

€ 1.126,06

Discount 14%

€

968,00

VAT included

Freight costs:
Item code:
LOU/AJTERRA
Brand:
Designer:
Arne Jacobsen
Delivery:
4-5 days if Available (+info)
Buy:
CHOOSE A VERSION
Description
The fixture emits downward directed light. The angle of the shade can be adjusted to optimize light distribution. The shade is painted white on the inside to ensure a soft comfortable light.
Material: Shade: Spun steel. Base: Die cast zinc. Stem: Steel.
Cable length: 2.4m. Light control: In-line switch on cord.
Class: Ingress protection IP20. Electric shock protection II.
Specification notes: the white version is supplied with a white cable. The other versions are supplied with a black cable. Bulb excluded 1x20W E27.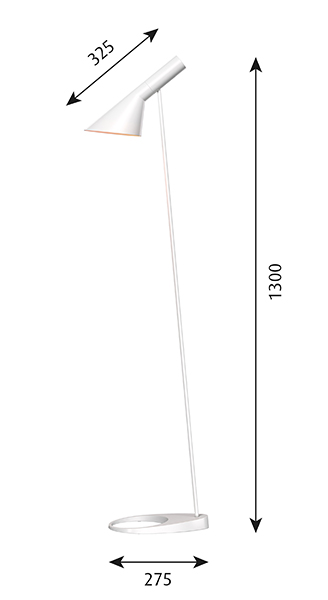 Version
Material
Price
White
Steel

€ 1.126,06

Discount 14%

€

968,00

VAT included

To order

Night Blue
Steel

€ 1.126,06

Discount 14%

€

968,00

VAT included

To order

Yellow ochre
Steel

€ 1.126,06

Discount 14%

€

968,00

VAT included

To order

Light Grey
Steel

€ 1.126,06

Discount 14%

€

968,00

VAT included

To order

Dark grey
Steel

€ 1.126,06

Discount 14%

€

968,00

VAT included

To order

Shiny Stainless
Steel

€ 1.331,02

Discount 14%

€

1.145,01

VAT included

To order

Aubergine
Steel

€ 1.126,06

Discount 14%

€

968,00

VAT included

To order

Black
Steel

€ 1.126,06

Discount 14%

€

968,00

VAT included

To order

Blue-green
Steel

€ 1.126,06

Discount 14%

€

968,00

VAT included

To order

Rusty red
Steel

€ 1.126,06

Discount 14%

€

968,00

VAT included

To order

Dark green
Steel

€ 1.126,06

Discount 14%

€

968,00

VAT included

To order