Description
Flos Clessidra by Antonio Citterio is a wall lamp with a double illumination. For the wall lamp Flos Clessidra Antonio Citterio creates an unusual piece, thanks to the diffused light upward and direct light downward. The name is inspired to the form of the lamp that means hourglass, suggesting so the time that pass. Uniting energetic saving and quality of illumination with its LED technology, an intense light it is gotten but without becoming dazzling.
Its particularity resides in its lenses to tall efficiency on purpose studied for the project, that offer a different index of refraction to let you free to choose the beam of light that you need and that it correspond better to your necessities and preferences. Available the beams 20°+20° or 40°+40°. The various available versions of Flos Clessidra will give you the possibility to combine to the best the wall lamp in your preferred rooms. Flos Clessidra is also ideal in the long corridors, maybe playing on the different colours optionally and on the position heights, in order to get a bright effect really particular. Opt for the inside option in chromed aluminium or for the white coloured to furnish houses or the public places. The grey dark and brown dark coloured models are the 2 proposals for a fantastic outdoor version, that will give that touch of elegance and originality plus to your verandas, terraces, balconies and gardens.
Characteristics:
Materials: Aluminum / PMMA
Power supply integrated wide-range (100-240Volt) in the body. Levels IP55.
Included light bulbs 2 LED 3000K - 812lm - CRI80 - 10W.
Dimensions: ø 72,6 mm / H 242 mm :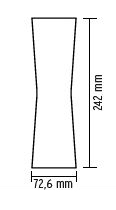 Version
Material
Price
White 20°+20°
aluminum, PMMA

€ 395,00

Discount 13.9%

€

340,00

To order

White 40°+40°
aluminum, PMMA

€ 395,00

Discount 13.9%

€

340,00

To order

Chrome 20°+20°
aluminum, PMMA

€ 395,00

Discount 13.9%

€

340,00

To order

Chrome 40°+40°
aluminum, PMMA

€ 395,00

Discount 13.9%

€

340,00

To order

Grey 20°+20°
aluminum, PMMA

€ 395,00

Discount 13.9%

€

340,00

To order

Grey 40°+40°
aluminum, PMMA

€ 395,00

Discount 13.9%

€

340,00

To order

Deep brown 20°+20°
aluminum, PMMA

€ 395,00

Discount 13.9%

€

340,00

To order

Deep brown 40°+40°
aluminum, PMMA

€ 395,00

Discount 13.9%

€

340,00

To order