VITRA Eames Plastic Armchair full padding black base DAW NEW DIMENSIONS (White, cushion leaf green/ forest - Polypropylene white, black maple wood and Hopsak fabric)
Price:

€

790,00

Freight costs:
Brand:
Designer:
Charles & Ray Eames
Version:
White, cushion leaf green/ forest
Material:
Polypropylene white, black maple wood and Hopsak fabric
Delivery:
4-5 days if available (+info)
Promo:
ASK A QUOTATION
Availability:

To order

Quantity:
Description
The Eames Plastic Armchairs DAW Vitra are renewed versions of the legendary Fiberglass Chairs. The original, which was the very first industrially produced plastic chair, was jointly developed with Zenith Plastics for the 'Low-Cost Furniture Design' competition organised by the Museum of Modern Art. In the current version made of polypropylene, these chairs are even more comfortable. The wide selection of bases makes it possible to use the chairs in a variety of settings: from the dining room or home office to the garden. Shells come in a broad range of colours and upholstery versions, so that components can be mixed and matched to find the perfect chair for individual needs.
In 2015, Vitra adapted the seat geometry and height of the Eames Plastic Armchairs to today's requirements and also expanded the selection of colours with six new shades. With their new seat height, the Eames Plastic Armchairs are even better suited for use in combination with contemporary dining tables. At home as well as in restaurants and cafeterias, the many confi guration options make it possible to find just the right chair for any furnishing scheme or interior environment.
Base: non-stacking base with wood legs and steel rod cross struts in basic dark. (DAW = Dining Height Armchair Wood Base)
Seat shell: dyed-through polypropylene. All models are available with a seat cushion (screwed to the seat shell) or full upholstery. The fully upholstered version has moulded polyurethane foam padding covered in Hopsak fabric, attached to the shell with a welted edge. Covers are available in all Hopsak fabric colours. Different shell and upholstery colours and various bases provide a multitude of possible combinations.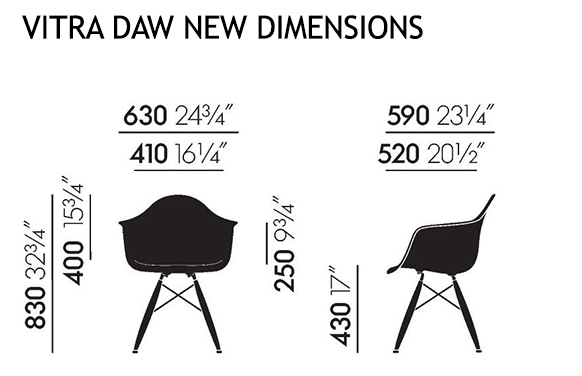 Available with shell and padding Hopsak chosen from those proposed. Let us know via email immediately after purchase, the color of the body and the cover chosen: