FLOS table lamp GUNS TABLE GUN
Description
Flos Guns Table Gun designed by Philippe Starck belongs to an unbelievable collection of lamps providing directed and ambient light. With Flos Guns Table Gun Starck imagines a lamp without equal. To turn on your lamp or to shoot, you'll probably have the doubt, pressing the trigger of Flos Guns Table Gun. Obviously harmless, this exclusive lamp is realized in die cast aluminum with an overloaded polymer coating and glossy finish. The two finishes available will give you a "bighting" choice, because the lamp is produced in the precious version shiny gold 18K or in a chromed variation, more sober but not with a less great effect.
The diffuser is the element that confers to the lamp its elegant touch typical of the Flos lamps. Realized in matte plasticized paper, black coloured with a gold inside finish or White coloured silver inside finish, the diffuser will offer a pleasant contrast with the strong base of the lamp.
The bright intensity of Flos Guns Table Gun is adjustable thanks to the dimmer present on the cable, to be able to set the light in the room to every occasion.
The imagination of Starck conducts us ever farther in the suggestions. The lamp Flos Guns Table Gun has in fact had numerous interpretations, so let you seduce by its charisma, let you inspire by its unique form and by the such shiny finishes proposed: diffuse a pleasant light in your favourite rooms through the shoot of Flos Guns Table Gun.
Light bulb excluded: 1 x MAX 105W E27 HSGS or 1 LED 21W E27 2450lm dimmer
Delivery estimated in 10 weeks.
Size: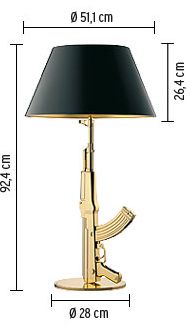 Version
Material
Price
Chrome
Aluminum, plastic paper

€ 2.170,00

Discount 14%

€

1.866,00

To order

Glossy gold 18k
Aluminum, plastic paper

€ 2.170,00

Discount 14%

€

1.866,00

To order