VITRA sofa three places SUITA with back pointed cushions
Description
The Suita Vitra sofa system combines light and slender volumes with an industrial and technological aesthetic. The geometrically precise body and cushions seem to float above the sleek, bridge-like aluminium legs, in what can be seen as a tribute to mid-century American design. The Suita sofa family encompasses a wide range of components. These can be used as independent elements or freely combined to adapt to all kinds of interior environments and furnishing needs. The seat and back cushions come in a choice of firm or soft versions on demand, and are optionally available with tufting.
Legs: die-cast aluminium, polished or powder-coated.
Body: webbed metal frame with moulded polyurethane foam.
Firm seat cushions: polyurethane foam and polyester fibre.
Seat heights: soft seat cushions 465 mm (340 mm with applied load, measured in accordance with EN 1335-1).
Classic back cushions: chamber cushions filled with polyurethane chips and feathers.
Covers: removable.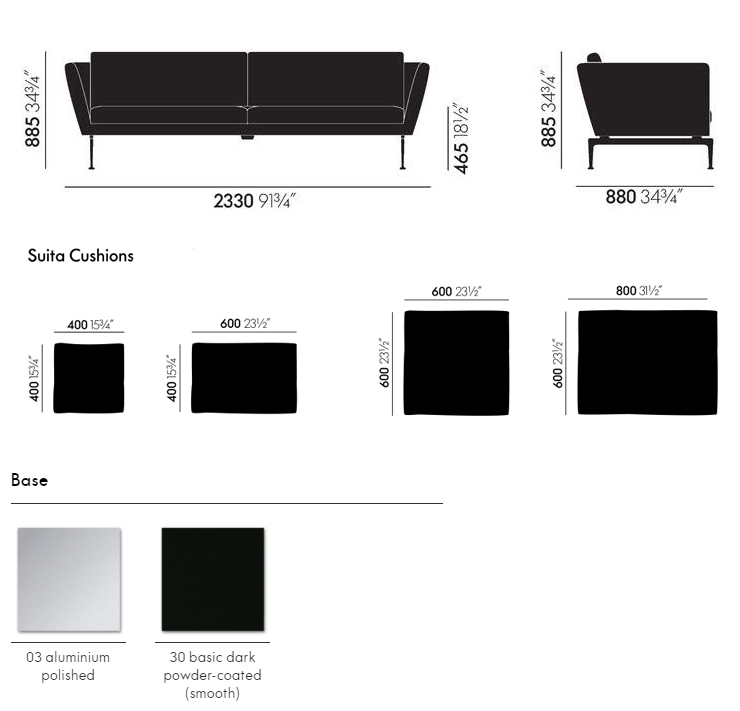 Version
Material
Price
Corsaro
fabric Cat. F80

€

6.040,00

To order

Cosy 2
fabric Cat. F80

€

6.040,00

To order

Credo
fabric Cat. F120

€

6.690,00

To order

Dumet
fabric Cat. F80

€

6.040,00

To order

Iroko 2
fabric Cat. F80

€

6.040,00

To order

Laser
fabric Cat. F40

€

5.370,00

To order

Linho
fabric Cat. F80

€

6.040,00

To order

Mello
fabric Cat. F40

€

5.370,00

To order

Olimpo
fabric Cat. F60

€

5.700,00

To order

Leather
leather Cat. L20

€

7.890,00

To order

Leather Natural
Leather Cat. L60

€

13.440,00

To order

Leather Premium
leather Cat. L40

€

10.280,00

To order

Reed
fabric Cat. F100

€

6.360,01

To order

Volo
fabric Cat. F60

€

5.700,00

To order