VITRA armchair HEART CONE CHAIR
Description
One year after the creation of the armchair Cone Chair, Verner Panton conceived this variation, that for his form to heart he had called Heart Cone Chair. Broadly the leaning back must be interpreted as modern evolution of the classical armchair with ears.
Structure: PRFV (fiber reinforced plastic laminated glass).
Padding: Polyurethane foam.
Base: cross base in brushed stainless steel.
Shoes: synthetic material.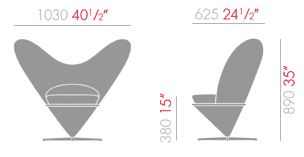 Version
Material
Price
Deep Orange
Tonus

€

3.020,00

To order

Blue
Tonus

€

3.020,00

To order

Dark-Blue
Tonus

€

3.020,00

To order

Dark yellow
Tonus

€

3.020,00

To order

Hibiscus
Tonus

€

3.020,00

To order

Dark magenta
Tonus

€

3.020,00

To order

Black
Tonus

€

3.020,00

To order

Red
Tonus

€

3.020,00

To order

dark red
Tonus

€

3.020,00

To order

Royal Blue
Tonus

€

3.020,00

To order

Truffle
Tonus

€

3.020,00

To order

Leaf green
Tonus

€

3.020,00

To order

Lime green
Tonus

€

3.020,00

To order