Description
The armchair Barcelona KnollStudio design is produced to Ludwig Mies van der Rohe' original specifications. Exclusive manufacturing and sales rights were accorded to Knoll by the designer in 1953. The Barcelona chair is also available in the Kid version. The KnollStudio logo and the signature of Mies van der Rohe are stamped into the base of each chair.
Polish chrome structure hand-buffed and hand-finished to a mirror finish. The cushions are upholstered with 40 individual panels cut, hand-welted and hand-tufted from a single hide. Seat and back cushions adapt to fit the curve of the frame. Side and edges of upholstery straps are dyed to match specified upholstery colour.
Available in a range of leathers. This product is available with foam that meets requirements for BS5852.
Awards: Museum of Modern Art Award, 1977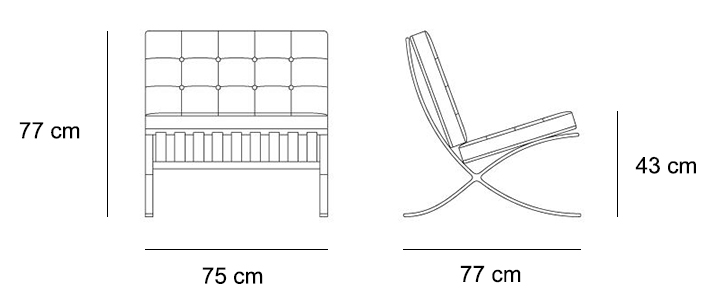 Version
Material
Price
Chromed structure / Black upholstery
Steel / leather Sabrina

€

8.588,80

To order

Chromed structure / Black upholstery
Steel / leather Volo

€

7.307,80

To order

Chromed structure / Flint upholstery
Steel / leather Volo

€

7.856,80

To order

Chromed structure / Tan upholstery
Steel / leather Volo

€

7.856,80

To order

Chromed structure / Toast upholstery
Steel / leather Volo

€

7.856,80

To order

Chromed structure / White upholstery
Steel / leather Sabrina

€

8.588,80

To order

Chromed structure / White upholstery
Steel / leather Volo

€

7.307,80

To order