LOUIS POULSEN wall lamp YUH
Price:

€ 590,48

Discount 14%

€

508,00

VAT included

Freight costs:
Item code:
LOU/YUHWALL
Brand:
Designer:
Gamfratesi
Delivery:
4-5 days if Available (+info)
Buy:
CHOOSE A VERSION
Description
The Yuh Louis Poulsen wall lamp emits light mainly downwards, without glare. The diffuser angle can be adjusted to optimize light distribution. The thin opening in the upper part diffuses a soft light upwards. A simple mechanical system allows great freedom of movement, this allows to place the light in the ideal position in the work environment, in the living room and in other spaces. The integrated LED technology offers a high quality of light, dimmable from 15 to 100%. It also has a timer that is programmed, allows automatic switching off after 4 or 8 hours, and a function to set the constant lighting level each time the lamp is connected to the main power supply. The switch / dimmer is positioned on the wall box.
Materials:
Diffuser and wall box: Die-cast aluminum.
Stem: extruded brass.
Cable length: 2.5 m.
Dimmable from 15 to 100%.
Timer function: 4/8 hours.
Switching on / off: Switch / dimmer on the wall box.
LED driver: integrated in the wall box.
Bulb included: 10W LED 2700K 45 lm / W.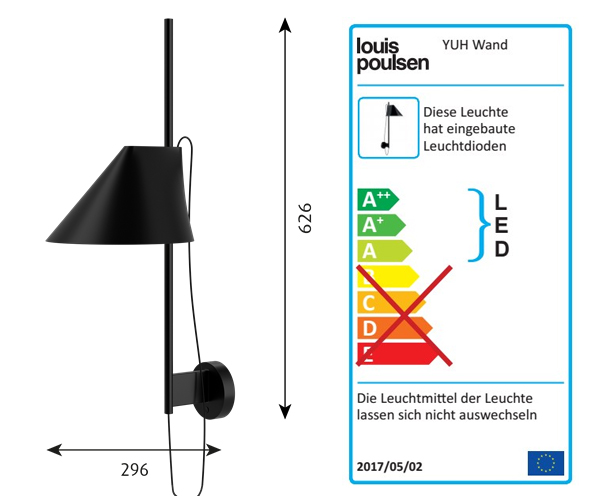 Version
Material
Price
White
Aluminium and metal

€ 590,48

Discount 14%

€

508,00

VAT included

To order

Black
Aluminium and metal

€ 590,48

Discount 14%

€

508,00

VAT included

To order

Brass / White
Aluminium and metal

€ 671,00

Discount 14%

€

577,00

VAT included

To order

Brass / Black
Aluminium and metal

€ 671,00

Discount 14%

€

577,00

VAT included

To order