OPINION CIATTI closet with studs PRINCIPE GALEOTTO
Description
Principe Galeotto is a cupboard of Opinion Ciatti design by Lapo Ciatti in MDF, square form enriched with 174 studs of Ø 2,9 cm, handle, coat of arms and key which gives it a new medieval taste.
Internal equipment: 4 crystal shelves or 2 crystal shelves and 4 coat hangers.
Finishing: structure in mat white RAL 9016, black RAL 9011, concrete, bronze and cast iron. Accessories chromed or golden 24 carat.
Note: the application of the material finishes is handicraft, every piece is unique with variations of finish.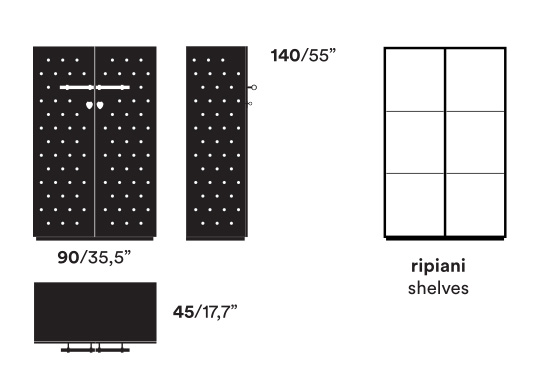 Version
Material
Price
Bronze, golden accessories, 2 shelves, 4 hangers
MDF and Metal

€

4.862,92

To order

Bronze, golden accessories, 4 shelves
MDF and Metal

€

4.862,92

To order

Concrete, chromed accessories, 2 shelves, 4 hangers
MDF and Metal

€

4.467,64

To order

Concrete, chromed accessories, 4 shelves
MDF and Metal

€

3.369,64

To order