NOCTIS double bed NOAH SECRET BOX for a mattress size 160x190 cm (Air 001 - fabric Cat. A, chromed feet and rod)
Price:

€

2.950,14

Freight costs:
Brand:
Designer:
Maurizio Varsi
Version:
Air 001
Material:
fabric Cat. A, chromed feet and rod
Delivery:
4-5 days if available (+info)
Availability:

To order

Quantity:
Description
Newly designed , a must-have of the best made in Italy , Noah combines high quality , attention to details , energetic look and a distinctive personality. Starting from the sinuous lines of its shape to the soft cover and cushions of the headboard realized in polyurethane foam. An exclusive collection of special fabrics dedicated to the endless variety of wishes , tastes and sensibility , for the first time made of texture especially designed by our styling department. Energetic and strong personality look. Smooth and original lines certainly destinated to be talked about. The original fabric Scubidu is perfect for modern locations. Of a great effect thanks to its soft design weft which is always in a complete harmony with any surrounding situation Noah® is proposed in extremely trendy shade. Great comfort in the use thanks to the two reclining cushions of the headboard. Realized in polyurethane foam by injecting they're a warranty of maximum quality. A special version with meticulous attention to details. A conceived balance for a strong and coordinated presentation. Noah® is nice from every corner you look at it. Refined is the headboard pole combined to iron legs. Always coordinated with each other, they're available in black, chrome, white or Pantone® finishing. Match your favorite color to the bed cover or to your other home details.
- Including an orthopedic staves bed frame with double central support and fourteen 65 mm birchen staves. Personalise your Noah®.
- Completely removable.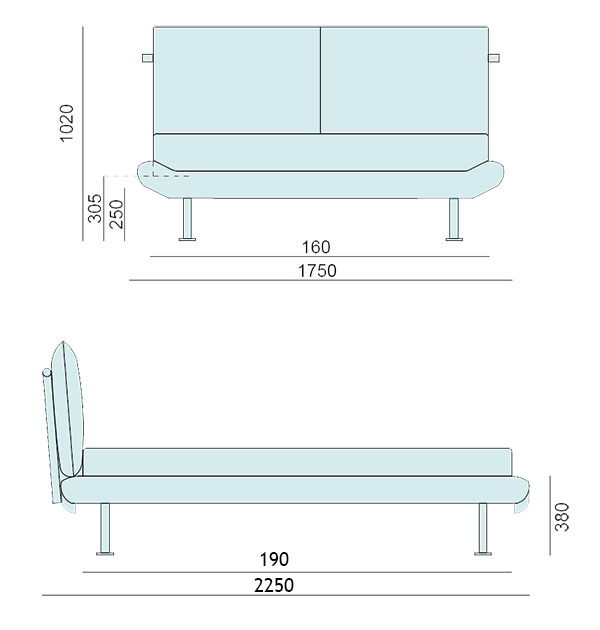 Click here to choose the color of the AIR Fabric